Vestibular Rehabilitation
Welcome to McKelvie Physiotherapy, operating in Oshawa, Ontario, specializing in the management of vestibular conditions causing vertigo, dizziness, and imbalance and Concussion Rehabilitation. We take great pride in creating a friendly, comfortable environment, and want to give you the one-on-one, expert care that you deserve. New patients are always welcome! Also now accepting WSIB Iinsurance!
| | |
| --- | --- |
| Monday | 9:00 -6:00 |
| Wednesday | 9:00 -6:00 |
| Friday | 9:00 -6:00 |
| | |
Evening appointments available upon request.
What is Vestibular Rehabilitation?
Vestibular rehabilitation is a proven, evidence based exercise approach to managing vestibular conditions causing vertigo, dizziness, and imbalance. Following a detailed assessment of your balance and vestibular function, treatment may include corrective maneuvers to relocate dislodged crystals on the inner ear, vestibular exercises to stimulate neurological habituation and adaptation, promote neuroplasticity and identification of lifestyle and environmental triggers to help manage the condition. Vestibular Rehabilitation can correct vertigo, improve balance and visual stability, decrease symptoms and restore healthy function and quality of life.
Vestibular Rehabilitation can help with vertigo, dizziness, and imbalance related to conditions such as:
Benign Paroxysmal Positional Vertigo
Concussion
Vestibular Neuritis
Neuritis related to COVID19
Persistent Postural Perceptual Dizziness
Labyrinthitis
Ramsey Hunt Syndrome
Acoustic neuroma
Labyrinthine Concussion
Vestibular Migraine
Meniere's Disease
Secondary Endolymph Hydrops
Superior Canal Dehiscence
Mal De Debarquement
Multiple Sclerosis
Stroke
Much more…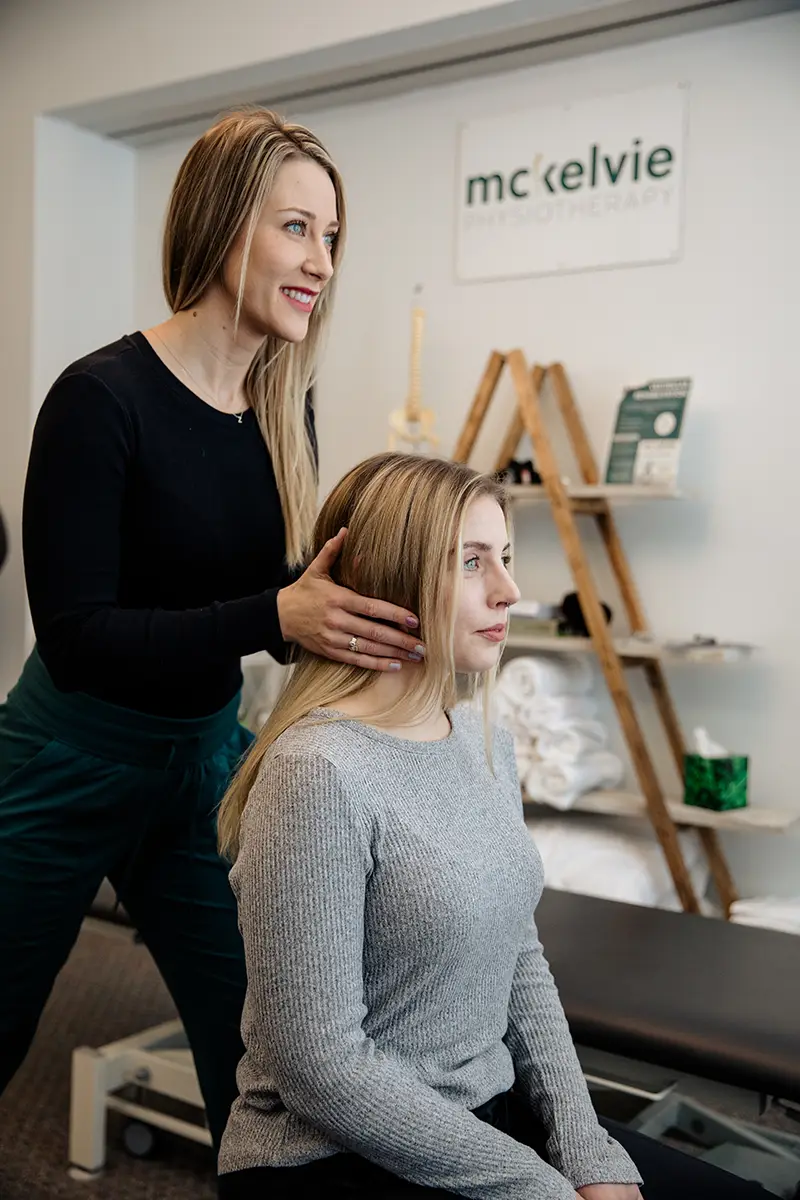 Physiotherapy Services
We take great pride in providing high quality, experience driven and client centered care at McKelvie Physiotherapy. You will work one on one with your Registered Physiotherapist at every session to collaboratively achieve your treatment goals. No busy waiting rooms or treatment delivered by physiotherapy assistants. You will work directly with your therapist at each session, allowing for a comfortable and completely custom and patient centered experience. Boasting a well equipped rehab gym and numerous treatment techniques, McKelvie Physiotherapy strives to achieve clinical excellence to help achieve your goals!
Why Choose McKelvie Physiotherapy?
Physiotherapy During COVID-19
McKelvie Physiotherapy is dedicated to the health and wellbeing of their patients. We abide by all standardized health regulations to provide a safe rehabilitation environment for all staff and patients. All patients and staff are to wear masks/face covering at all times. All surfaces are cleaned and disinfected between use. Thorough screening is completed prior to the appointment to mitigate risk. Please feel free to contact us if you have any questions or concerns.